Home > Awards > Team Chuck dominiert BBVA
Posted on Friday, February 24, 2012 by NBA Playoff Schedule 2012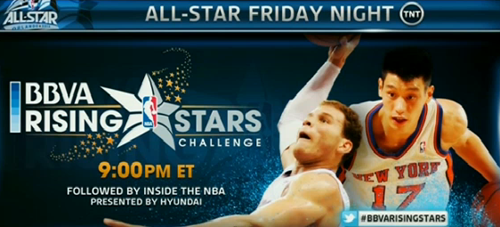 Team Chuck gewann eines der bedeutungslosesten Freundschaftsspiele aller Zeiten erwartungsgemäss deutlich mit 146-133 dank mannschaftlicher Geschlossenheit und Flammenwerfer Kyrie Irving. Im Folgenden ein paar lose Gedankenzüge vom erstmals in dieser Form ausgetragenen Rookie-Sophomore Game.

• Team Chuck war von Beginn an überlegen und führte durchgehend. Schon nach dem Draft letzte Woche konnte man nicht umhin, massive Denkfehler in Shaq's Draft-Strategie auszumachen. Zu viele Guards, zu wenige Rebounder und ein insgesamt schlecht ausbalanciertes Team wurden Team Shaq zum Verhängnis. Team Chuck dominierte die Bretter 43-29 und kam so via Fastbreak zu mehr leichten Punkten und einer Team-Trefferquote von 65% aus dem Feld. Zu allem Überfluss versuchte ein sichtlich genervter O'Neal in einem Interview mit Craig Sager während des Spiels die Verantwortung auf Steve Kerr abzuwälzen. Kerr war zwar für das Coaching zuständig, aber den Schuh muss sich O'Neal ganz alleine anziehen. Den Draft hat er im Alleingang verbockt.

• Kyrie Irving war mit Abstand der dominanteste Akteur auf dem Platz und spuckte das gesamte Spiel über Feuerbälle. Der Rookie of the Year Favorit erzielte insgesamt 34 Punkte, verteilte 9 Assists und klaute 2 Bälle auf dem Weg zur MVP-Trophäe. Absolut beeindruckend war dabei die brutale Effizienz seines Spiels, das uns ja schon während der ersten Saisonhälfte so in Erstaunen versetzt hat. Irving traf 12 seiner 13 Versuche aus dem Feld, inklusive 8 von 8 Dreiern, die ihm das berühmte Jordan-Achselzucken entlockten. "Schade, dass diese Leistung nicht wirklich zählt. Ich hatte noch nie so einen treffsicheren Abend. Es war spassig, so heiss zu laufen, insbesondere während eines All-Star Spiels bei dem Millionen zusehen", sagte der Cavalier nach der Partie.



•
Ricky Rubio
's Spielweise erinnert ganz stark an Pistol Pete Maravich, vor allem, wenn man ihm bei einem solch ungezwungenen Format beobachtet. "Wir hatten schon seit 400 vor Christus von Rubio gehört", scherzte sein BBVA Teamkollege Tristan Thompson. "Jetzt konnten wir endlich sehen, was er kann. Es macht Spass mit ihm. Er wird mal ein Grosser in dieser Liga." Die Leichtigkeit im Spiel nach vorne, die Dribblings hinter dem Rücken und zwischen den Beinen der Gegner hindurch, die perfekten Lob-Pässe, das alles sorgte für zahlreiche Oha-Momente, und man freute sich beim Zuschauen wie ein kleines Kind beim Anblick des Weihnachtsmanns im Osterhasenkostüm. Feinstes Playground-Playmaking, ohne schwulstig oder aufgesetzt zu wirken. Double-Like-Knopf-Drück.
•
John Wall
war eine Ein-Mann Dunking Show heute. Der Wizards-Sophomore hatte wohl noch ein Hühnchen zu rupfen mit all jenen, die ihn gehörig unterschätzt und nach schwachem Saisonstart bereits abgeschrieben hatten. Shaq hatte ihn 6 Runden lang nicht beachtet, also schlug Barkley im Draft zu. Wall erzielte 17 Punkte, 6 Rebounds und 8 Assists und zeigte einen spektakulären Slam nach dem anderen. Off the Backboard Alley Oops, Behind-the-back Dunks, Tomahawks, das volle Repertoire. Ist es zu spät, ihn für den Contest morgen Abend zu nominieren?
•
Von
Jeremy Lin
war - zum Glück - fast gar nichts zu sehen. Der Knicks-Guard kam nur 8 Minuten zum Einsatz und erzielte nur einen einzigen Korb, ein Up & Under Layup in Halbzeit zwei. Nach dem ganzen Wahnsinn der letzten Wochen und unzähligen Rekorden in der journalistischen Berichterstattung tat es gut, wenigstens während des Spiels ein paar Gänge zurück zu schalten. Der smarte Youngster, der sich seines Kult-Status durchaus bewusst ist und dem das Ganze manchmal peinlich erscheint, verlangte buchstäblich nach weniger Spielzeit, um seinen Kollegen heute die grosse Show zu überlassen. Wer den kompletten Medienzirkus am Arsch kleben hat (und seine eigene Pressekonferenz), gibt gerne etwas vom Rampenlicht ab. Danke, Jeremy.
•
Derrick Favors
, der für den verletzten
Tiago Splitter
in die Lineup gerückt war, machte mit 14 Punkten (5-5 FG) und 3 Steals in 14 Minuten eine perfekte Partie. Für
Kawhi Leonard
, der wegen einer Verletzung kurz vor Tipoff ebenfalls verletzt ausfiel, wurde niemand mehr nachnominiert.
Paul George
, der grosse Favorit beim morgigen Dunk-Contest, war mit 23 Punkten zweitbester Scorer hinter MVP Irving. Beim Team Shaq wussten vor allem
Greg Monroe
(19 Pts, 10 Reb, 4 Ast, 5 Stl),
Tristan Thompson
(20 Pts) und
Norris Cole
(18 Pts, 4 Dreier) zu überzeugen.
Blake Griffin
lieferte 10 Punkte in 10 Minuten und einige spektakuläre Flugeinlagen ab, bevor er von O'Neal kritisiert und auf die Bank verbannt wurde. Ihn sehen wir natürlich am Sonntag beim "richtigen" All-Star Game wieder.
•
Ich habe es sicherlich schon mehrfach erwähnt, aber
Kenny Smith
muss unbedingt ins Kommentatoren-Team von TNT. Der Jet harmonierte prächtig mit Reporter-Urgestein Kevin Harlan, brillierte durch sein sachliches Know-How und seine frei fliessende Spreche am Mikrofon. Sein intuitiver Stil, gepaart mit dem schnell feuernden New York Slang und einer gehörigen Portion Humor, kommt um Längen besser daher als Schlaftablette
Reggie Miller
oder Nervensäge
Jeff van Gundy
.
Category Article
Awards