Home > Knicks > Der grosse Unterschied
Posted on Tuesday, April 17, 2012 by NBA Playoff Schedule 2012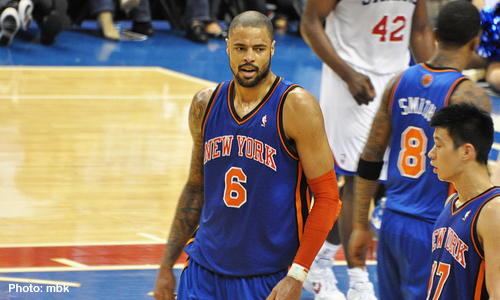 Fragt man den durchschnittlichen Fan nach dem wichtigsten Spieler bei den New York Knicks, variiert die Antwort vermutlich zwischen Carmelo Anthony, Amare Stoudemire und Jeremy Lin. Sie sind es ja auch, denen der Grossteil des grellen Scheinwerferlichts und Medieninteresses im Big Apple zuteil wird. Wie ironisch, dass dabei der imposanteste und beste Akteur im Kader allzu leicht übersehen wird: Tyson Chandler, Knicks-MVP.

Der 2,16m Hüne ist der Hauptgrund für New Yorks historischen Umschwung in dieser Saison und Garant dafür, dass man mittlerweile zu den heissesten Teams der Liga zählt. Chandler, der vor der Saison in einem Drei-Team-Trade für vier Jahre und 58 Millionen Dollar aus Dallas kam, hat eigenhändig die gesamte Knicks-Kultur verändert. Letztes Jahr rangierten die 'Bockers bei der defensiven Effizienz noch abgeschlagen auf Platz 21. Der Gegner hatte vor dem Anthony/Stoudemire Frontcourt keinerlei Respekt und punktete nach Belieben. Dank des Zonen patrouillierenden Neuzugangs verbesserte sich das Team in der Verteidigung über Nacht und schoss in den Rankings steil nach oben. Mittlerweile rangiert New York bei den stärksten Abwehrbollwerken der Liga auf Platz 4 (Def. Eff. 97.6) – Tendenz weiter steigend.


Es ist vor allem Chandlers Verdienst, dass die Knicks wieder mit beinharter Defense assoziiert werden, wie schon vor 20 Jahren unter Patrick Ewing und später dann beim historischen Finals-Run 1999. Er deckt viele Unzulänglichkeiten seiner Vorderleute ab und versichert gegen Anthony/Stoudemire Rotationsfehler. Er ackert am defensiven Brett, neutralisiert die Zone und absorbiert gegnerische Drives wie ein überdimensional grosser Staubsauger. Mit ihm auf dem Court kassieren die Knicks nur 99.5 Punkte pro 100 Angriffe. Ohne ihn: astronomische 113.5.
Der 29-Jährige ist lang, mobil und extrem athletisch. Er putzt das Glas wie Sidolin (10 Rebounds pro Spiel, Platz 8), blockt Würfe ohne in Foulprobleme zu geraten (1.5 BPG, Platz 19) und ist der unumstrittene Knicks-Anführer auf dem Parkett. Seine Antizipation, seine Wahrnehmung und seine Fähigkeiten als Defensivkoordinator haben ihn in den letzten Jahren zu einem der dominantesten Verteidiger der Liga gemacht, dem erstmals ernste Chancen auf den "Defensive Player of the Year" Award eingeräumt werden. Für mich ist er in dieser Saison der unumstrittene DPOY, noch vor Dwight Howard, LeBron James, Serge Ibaka oder Kevin Garnett, dank seines statistischen Impacts auf die Standings und indirekt auf die Psyche...
Hier weiterlesen...
Category Article
Feature
,
Knicks

Blog Archive